Welcome to Aragon Striping
A perfect striping of roads, markers or lines is very important for the safety and security of travellers. Distinct street signs and raised pavement markings also serve similar functions helping not only the driver but also preventing accidents. If you are looking for a company that can flawlessly install an eye-catching sign or put clear markings on roads, then your search ends at
Aragon Striping.
Eye-Catching Signage and Markings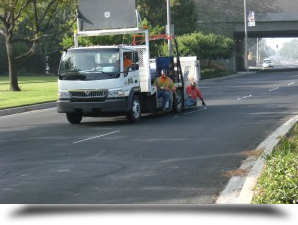 We have been providing expert striping of roads, sign installations, markers, lines and legend markings to commercial, government and private properties in the Greater Los Angeles area of San Bernadino County, Orange County and Riverside County since 2012.
Our crew also specializes in concrete wheel stops, painted pavement markings as well as curb paintings.